WTA Bol Open 2016. Semifinals
Starting in 13.30h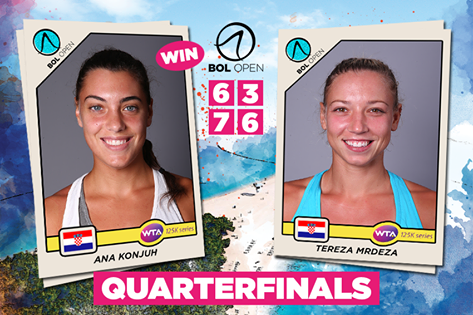 A big Saturday is in front of us! In the tomorrows first semifinal WTA Bol Open at 13:30, Nao Hibino of Japan will play against the Slovenian Polona Hercog. After that at 17:00 with a direct coverage on HTV, Croatian Ana Konjuh will play against Luxemburgian Mandy Minella.
The favored Croat defeated Tereza Mrdeza with 6:3, 7:6(5). "I tip my hat to Tereza, she put me out of my ryhtm which I did not like. It was a tough battle for every point, every game" –said Konjuh after the match.
On Saturday she will play against the Luxemburgian Mandy Minella, ranked 186th on the WTA list. "I never played against her, I don't know her that much. I expect a good match.We are both tired, I expect a fight and a good tennis." – said Minella
Tereza Mrdeza put a resistance versus a younger opponent. "We know each other for a long time, she is a quality opponent, she started to play better, managed to keep on the rhythm, but well. All in all I knew I have nothing to lose. Considering this is my third tournament after the surgery and that I came to Bol after a 10k tournament and she after Roland Garros, it is all cristal clear" – said Mrdeza
The Luxemburgian Minella was impressed with Bol. "This tournament has a fantastic organization. I wish every tournament was like this one. It is hosted on the hotel courts and Bol is like in paradise. We have an excellent Spa, food is great. On the other tournaments you have to travel a lot between accommodation and it is not as nice like here.
In the second semi-final match, Japanese Hibino who defeated the Swiss Stefanie Voegele 6:2, 6:2 will play against the Slovenian Hercog who defeated the Slovak, Kristina Kucova with 6:4, 6:1
"I plan to play in the finals of every tournament. So far so good, I took my chances in all of my matches. If I continue like that I might get even better"- said Polona Hercog