The Ultimate Guide to Zlatni Rat Beach Croatia
The shape of the half-kilometre beach continually changes (albeit ever so slightly), forming the most unusual shape, and for two years in a row, Zlatni Rat been named #3 of the Best Beach Destinations in Europe.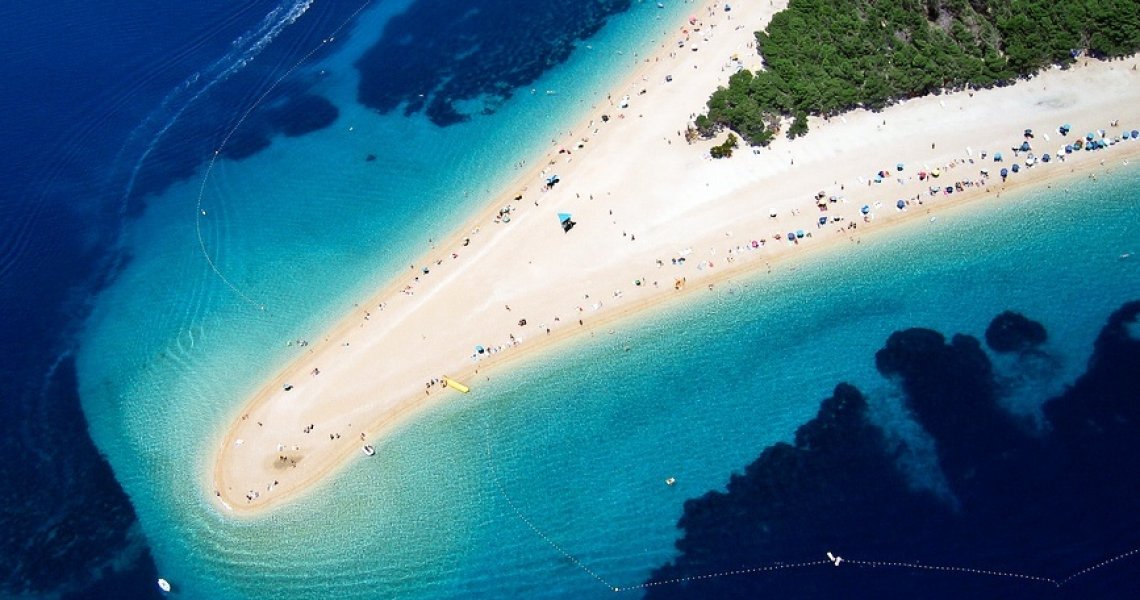 Okay so let's give this beach some credit. A clap perhaps? Maybe a big cheer? It really is one of those natural occurrences that make you smile at mother nature. Zlatni Rat beach is a long golden pebble beach that stretches out to the Adriatic Sea like a hand reaching out for more wine (or beer, you choose). The Zlatni Rat beach is located 4km from the town of Bol, on Brac Island. Zlatni Rat beach is a very popular for holidaymakers to spend their Croatia holidays and is arguably the best beach in Croatia.
The shape of the half-kilometre beach continually changes (albeit ever so slightly), forming the most unusual shape, and for two years in a row, Zlatni Rat been named #3 of the Best Beach Destinations in Europe. Zlatni Rat beach is sometimes referred to as the Golden Cape or Golden Horn beach and is regularly named as one of the most beautiful beaches in the world.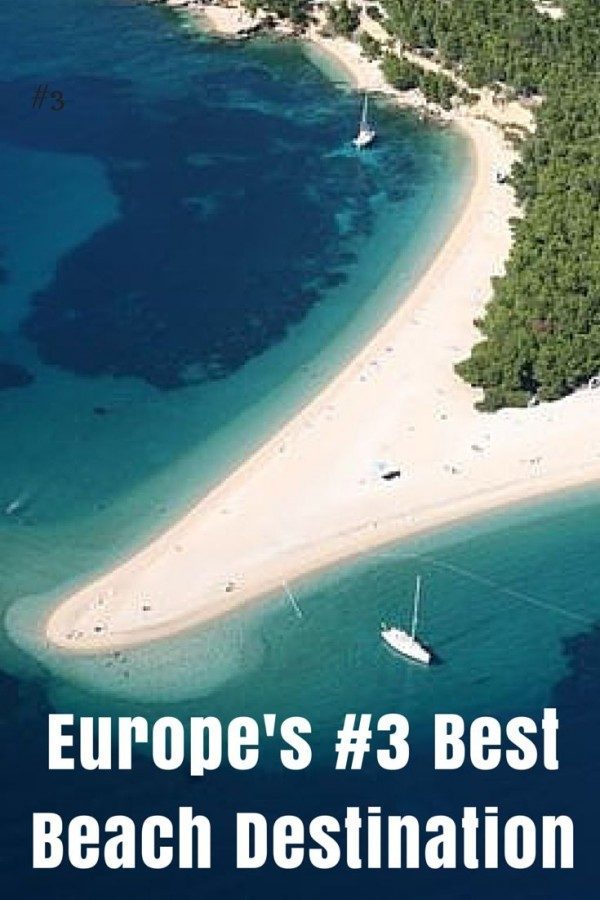 We were in Bol enjoying a family getaway and arrived at Zlatni Rat beach about 30 minutes before sunset. We could not have timed our arrival more perfectly. The three of us, our local guide and a couple were all that occupied the huge V-shaped beach on that evening.
With the crowds gone, presumably eating dinner and recovering from a day on the beach. I sat at the mid-way point along the picture-perfect postcard golden horn beach with the baby Donkey, who was too tired to walk the length of the beach. We laughed and giggled together as we threw rocks into the sea At one point we both went quiet – a rare moment for a 21-month-old. Sitting down in front of me, he sat staring out across the channel. I smiled a big smile looking at my little Croatian prince; it was like he too was loving the sounds of the waves gently lapping over the petite-rounded pebbles. A perfect way to end a long day of site seeing in the town of Bol.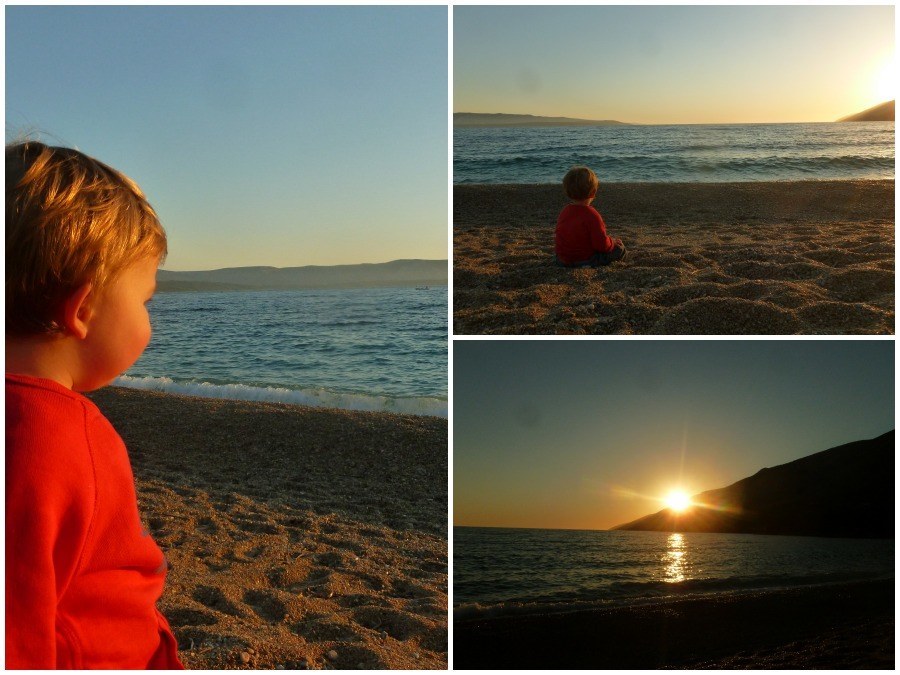 We both sat and enjoyed sunset at Zlatni Rat Beach in peace and quiet
How does Zlatni Rat Beach get its unusual shape?
Dip your toes into the crystal clear waters of Zlatni Rat, far and away the-most-unique beach in Croatia, where the beach's ever-changing shape is formed by wind conditions and sea currents. The far end of Zlatni Rat beach is often turned towards the east. However, the tip of the beach will shift to the west when a strong south-easterly wind known as the Jugo blows.
Is Zlatni Rat beach for families?
YES! The beach has lifeguards on duty to protect you during summer, and there is a century-old Mediterranean pine tree forest just 2 minutes walk from the waters edge, allowing you to take shelter from the blazing-hot sun. Children can enjoy one of the several playgrounds, including one located in a close by cafe. Things to consider for children:
To help you decide if Croatia is the right choice for your family check out this guide – Croatia holidays for families.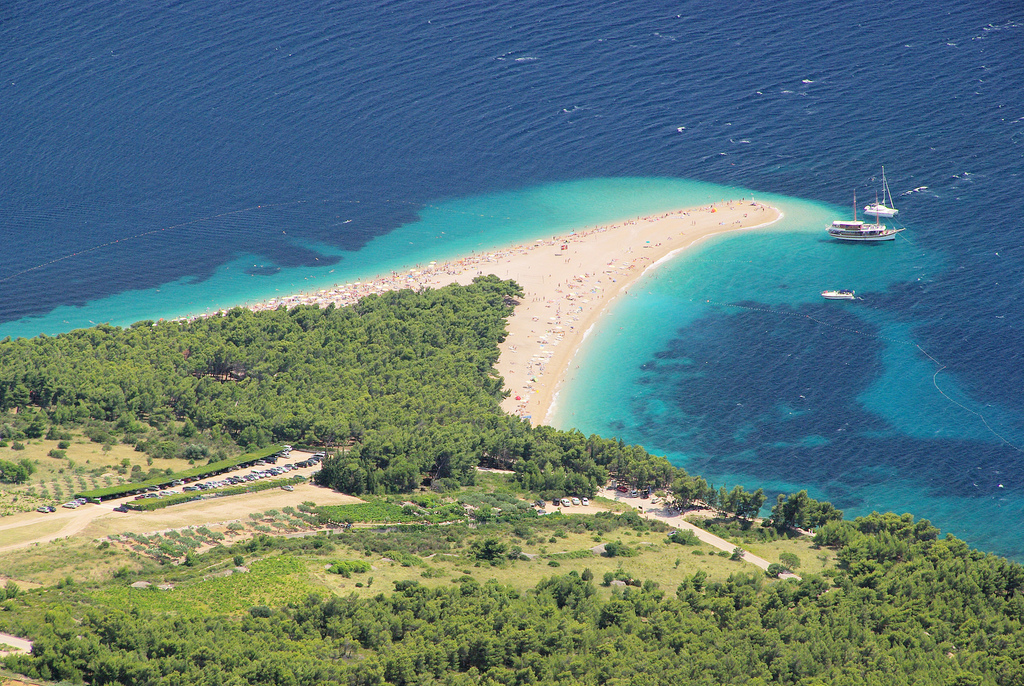 Zlatni Rat beach from up high – Photo Credit On the go
Local Tips
Enjoy the sunset on the beach. Take down a bottle of wine and some glasses, and sit on the beach before sunset. Because so many people spend all day on the beach, it is often vacant during that time. Watch as the sun sets behind the mountains as you lay on the beach chair without a care in the world. During the day, a set of beach chairs and an umbrella will you cost 150 Kuna, but at sunset they are left unattended.
Watch out for nudists. Not a nudist beach, although on the western side in one of the smaller coves is an approved nudist beach. A great place to take photos of Hvar, just keep your lens up and over the naked bodies.
Save money. If you are traveling on a small budget, bring with you snacks and drinks as the kiosks are known to have much higher prices than other places on Bol.
Bring small change with you. As with some places in Croatia, you'll need to pay for use of the toilet on the beach. Carry with you some 1,2 and 5 Kuna coins.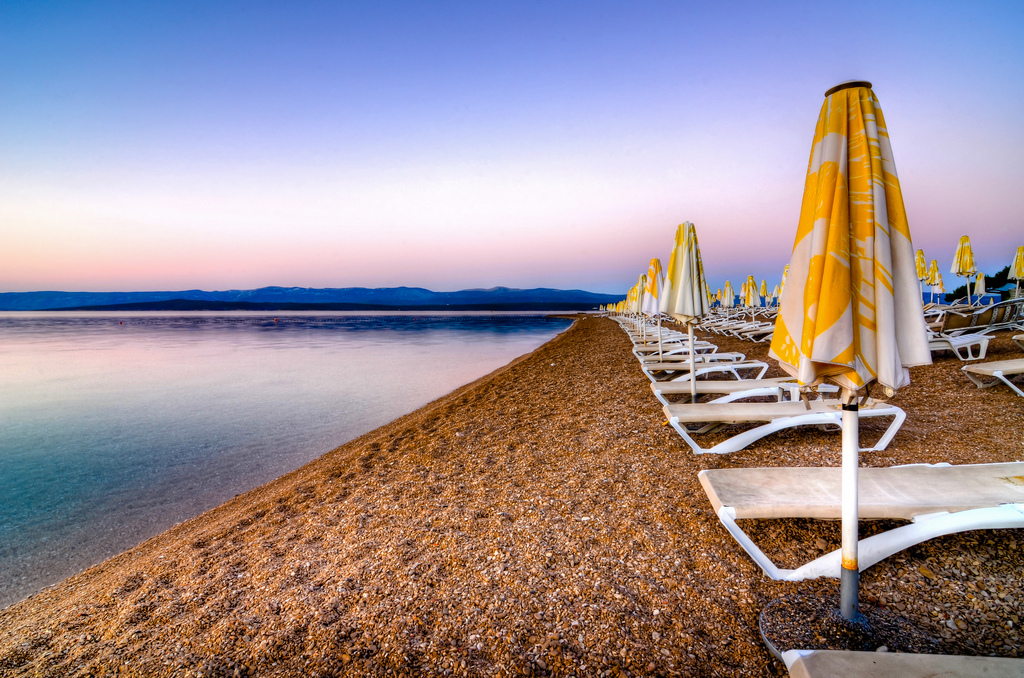 Tranquil Zlatni Rat Beach – Photo Credit Danko Durbić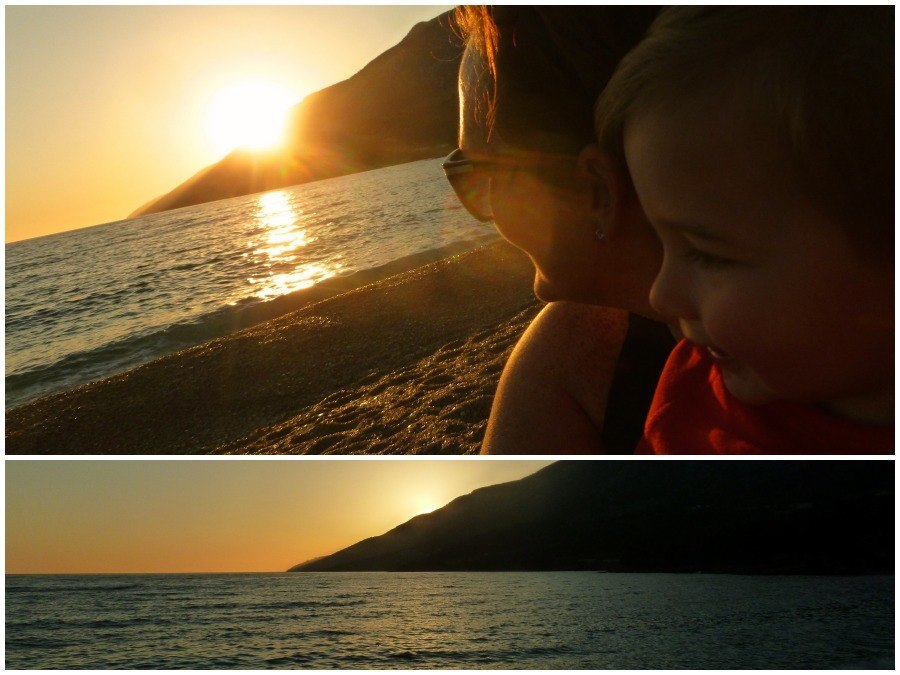 Mama and Son time on Zlatni Rat beach
What else can you do on Zlatni Rat Beach?
The afternoon westerly-wind (Maestral) has made Zlanti Rat, a top destination for windsurfers. Close by are several windsurfing schools where you can learn how to surf or simply rent the necessary equipment
Rent a paddle boat or jet-ski
With no sand or seaweed, it's a great place to snorkel. Don't forget your goggles and fins.
Zlatni Rat Beach Amenities
Beach beds and umbrellas available for rent
Cafes and restaurants within a short walking distance.
Showers
Portable kiosks for food and drinks
On beach waiter (provided by a nearby cafe)
How to get to Zlatni Rat & Brac Island
Bol is situated in the southern part of the island Brač there are a few ways to get to Island.
Fly. A German airline, Express Airways announced the opening of three new direct routes connecting Germany and Sweden with Brac Island, Croatia. Flights start May 2015.
Ferry: There are regular ferry connections from many places, including Split. From Split, you can take the catamaran (passengers only) direct to Bol, the closest town to the beach. If you have a car, you can take the ferry from Split or Makarska to Supetar, where you'll find a public bus service, taxis or can rent a car. The drive from Supetar to Bol takes around 40 minutes.
Bol Accommodation close to Zlatni Rat Beach
There are many Bol accommodation options close to Zlatni Rat beach. Including private apartments, small and family run hotels but your choice should be the 4-star luxury accommodations at the Bluesun Hotel Elaphusa. It's where we enjoyed views to Zlatni Rat and one of the other Croatian Island hotspots – Hvar. Family-friendly Croatia resorts come no better than Hotel Elaphusa. It is a 10-minute leisurely stroll to Zlatni Rat along the shaded promenade and provides exceptional service. It also has one of the largest wellness centres in Croatia offering unique olive oil treatments. It has our tick of approval.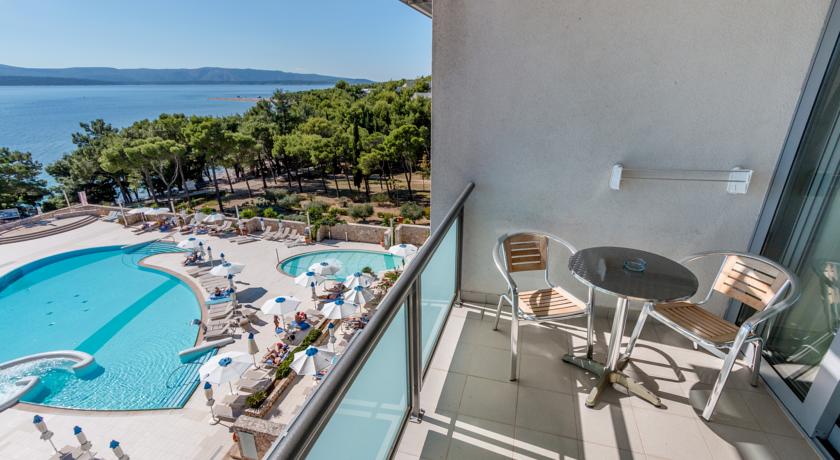 Stay at Bluesun Elaphusa just 5 mins walk from the beach
More Bol Accommodation Options
If you'd prefer to look at other options, we've selected a range of accommodations in Bol to get your search started:
Where to Eat Near Zlatni Rat
Brac Island has no shortage of great places to eat Croatian food – our two favorites just a 10 min walk from the beach are:
Vagabundo Restaurant & Bar | Serving up exceptional Croatian dishes with a modern twist. Vagabundo has an extensive wine list, a great children's menu, and incredible views. We could not agree on what the standout dish is – just try them all. | website
Konoba Vallum. Traditional Mediterranean food served in a cozy and inviting Konoba. We especially enjoyed the fish soup | Visit: Bracka Cesta 13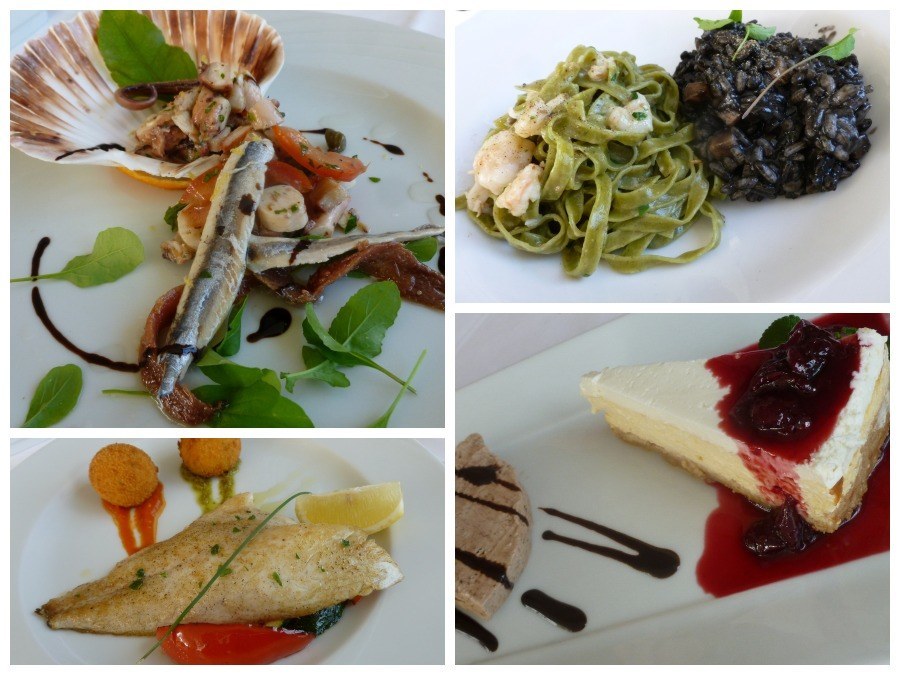 Where is Zlatni Rat
Check out Zlatni Rat Beach before you go thanks to Google's interactive map here. If you'd like to know more about Zlatni Rat Croatia, the delightful town of Bol or Brac Island visit the Tourist Board's Facebook page.
Main Photo Credit Szabolcs Emich
Original blog post: https://www.chasingthedonkey.com/zlatni-rat-beach-croatia/