Bol Art Gallery preserves some of the greatest treasures of Croatian art of the 20th century
08.03.2022.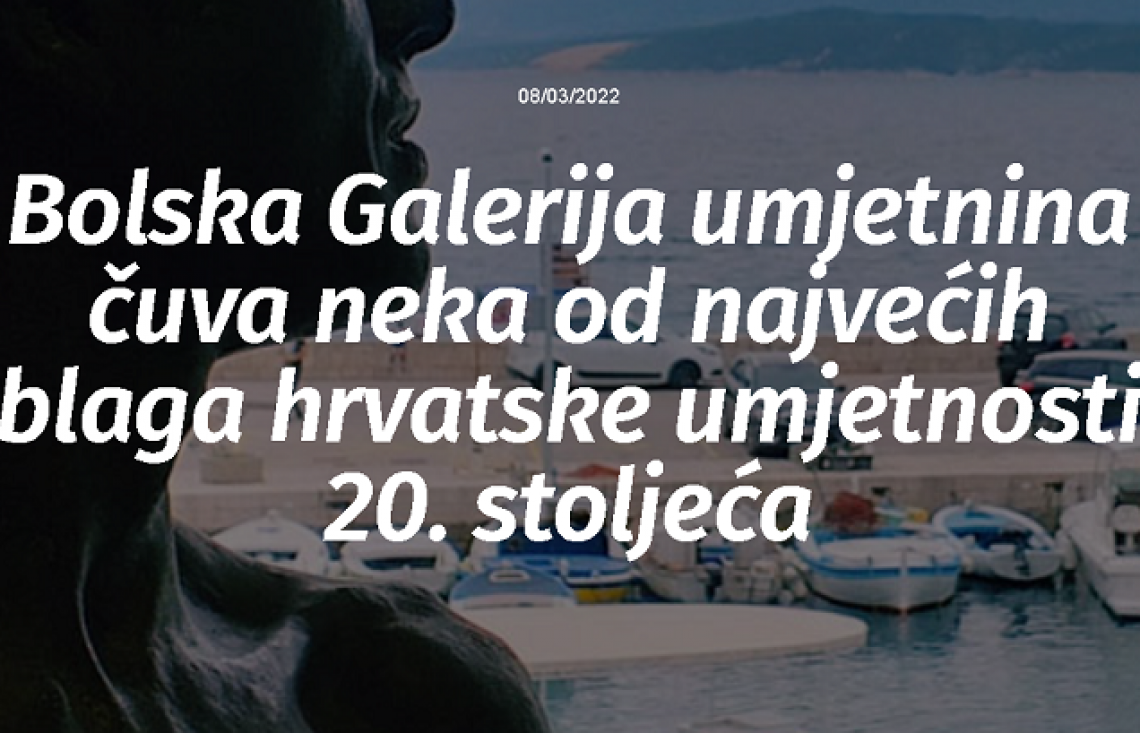 Art Gallery in Bol, founded in 1963, is named after the great animalist sculptor from Brač Branislav Dešković. In the gallery, through his oeuvre, we can follow this artist from the earliest works created during Venetian schooling, youth portraits, through a series of inspired depictions of dogs on the move, to monumental sculptures such as "Victory of Freedom".
Academic sculptor Branislav Dešković was born in Pučišća on March 11, 1883, and died in Zagreb on August 20, 1939. He was educated in Venice, Vienna and Paris, where he regularly exhibited at Hall, the official art exhibition Academy of Fine Arts in Paris.
As a volunteer, he went to the war in Montenegro in 1914, and after that he went to Rome, Geneva and Paris. From 1921 he lived in Split.
He was known as a passionate hunter, which was reflected in his artistic work. He is the most expressive animalist in Croatian sculpture. He mostly made statues of hunting dogs, but he also dealt with other animals.
During his stay in Sarajevo in 1910, he was inspired by Bosnian characters, which he later depicted in several sculptures.
He loved to use stone, clay and bronze, and was considered the first impressionist of Croatian sculpture.
Part of the work of Branislav Dešković is in Bol, and some are on display in Split and Zagreb.
History records that the artist presented a sketch for the Victory of Freedom monument to US President Woodrow Wilson in Paris in 1918, as a token of gratitude for his commitment to small nations and for fulfilling their desire for freedom.
The permanent exhibition of the Gallery is divided into three floors of the Renaissance-Baroque palace from 1694, and here you can see one of the most representative exhibitions of Croatian art of the 20th century. The Gallery presents works by the greatest painters and sculptors of modern and contemporary Croatian art - Jerolim Miša, Ignjat Job, Emanuel Vidović, Juraj Plančić, Marin Tartaglia, Ivo Dulčić, Ljubo Ivančić, Ivo Šebalj, Edo Murtić, Šime Perić, Joško Eterović, Ivan Rendić , Ivan Meštrović, Branislav Dešković, Antun Augustinčić, Valerij Michieli, Mirko Ostoja, Lili Garafulić, Raoul Goldoni, Ksenija Kantoci, Tomislav Ostoja and many others.
For many of these artists, the Dalmatian climate - especially the island of Brac - has been an inexhaustible source of inspiration. The art collection of the Gallery has the status of a cultural asset of the Republic of Croatia. On the ground floor of the Gallery, there is a live exhibition activity in the cycle "Summer exhibitions in the Branislav Dešković Art Gallery".