Bol on Brač island is the first in the world to have two bike storytelling trails
14.07.2021.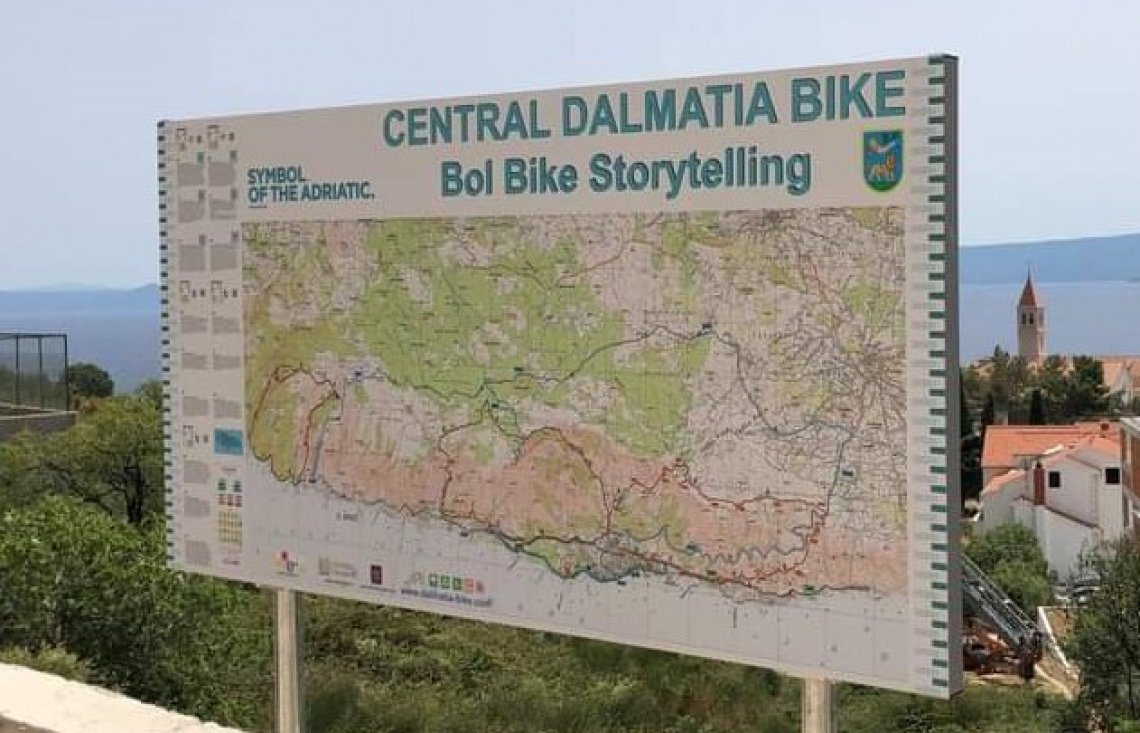 Demand for the facilities offered by active tourism is growing day by day, and the supply is getting richer. Domestic and foreign guests are increasingly turning to nature, so new hiking and biking trails in Croatian destinations are becoming more numerous. Although the sun and the sea are still high on the list of demands of many tourists, some of them are looking for something more. Some tourist boards have recognized the demands of the "new normal" weather and started preparations before this season.
Thus, three months ago, the Tourist Board of Bol on Brač, aware that active tourism is one of the prerequisites for extending the season, presented three new hiking and two new bike trails, based on local legends. But as we find out, the story of enriching the offer did not stop there.
"Four years ago, we marked the trails, last year we made maps and told stories for the first time, and now we have put those stories and maps on the info boards. Anyone who can't read the stories can listen to them, after reading the QR code on their smartphone. Info boards, as far as we can see, are already attracting a lot of attention, and people are stopping, reading and scanning. ", told us Markito Marinkovic, director of the Tourist Board of Bol.
Thus, the world novelty in Bol cycling was realized in an express period of only a few weeks, which has passed since the design, licensing, production, payment and installation of signage, info boards and accompanying software on two Bol cycling trails about 60 kilometers long that have at least one world novelty.
Two Bol cycling trails: 767 - Feel the intoxicating smells of Brač, and 768 - Brač fairies from myths and legends, are the world's first Bike Storytelling tracks and have their own stories that can be heard in three languages, Croatian, English and German, using accompanying software, at the locations of large info boards located on the tracks. Thus, Bol's storytelling trails are adapted for blind and partially sighted people, at least in the story section.
"Cycling trails with Storytelling are a world novelty, and another novelty is the automatic launch of these stories on a mobile phone in three languages, when the QR code is scanned. This morning we agreed with the Association of the Blind and Visually Impaired of Split-Dalmatia County to place markers and descriptions in Braille (Braille) on these codes on the info board, so blind and partially sighted people will be able to at least hear the story of these trails in their language. This morning we were contacted by colleagues from two Austrian tourist regions who are interested in this world novelty in cycling tourism ", Denis Spadina, president, told us Cycling Association of Split-Dalmatia County, who adds that the trail is not suitable for blind and partially sighted people, but for them the opportunity to feel the beauty on tandem bikes is being prepared, and for the rider to tell them the story of the trail they pass, but more on that in the fall.
Bicycle paths and new info boards are just one part of the rich tourist offer of Bol on Brač, which in relation to the last pandemic 2020 records excellent results. To date, according to Marinković, about 73% of tourist traffic has been realized compared to 2019. Currently, the most numerous are Slovenian tourists, followed by Germans and Croats, who make up 11% of tourists in Bol. This is a large percentage considering that so far domestic tourists in the tourist traffic of Bol made up between four and five percent.