Discover the treasures of the Dominican monastery in Bol on Brač
01.03.2022.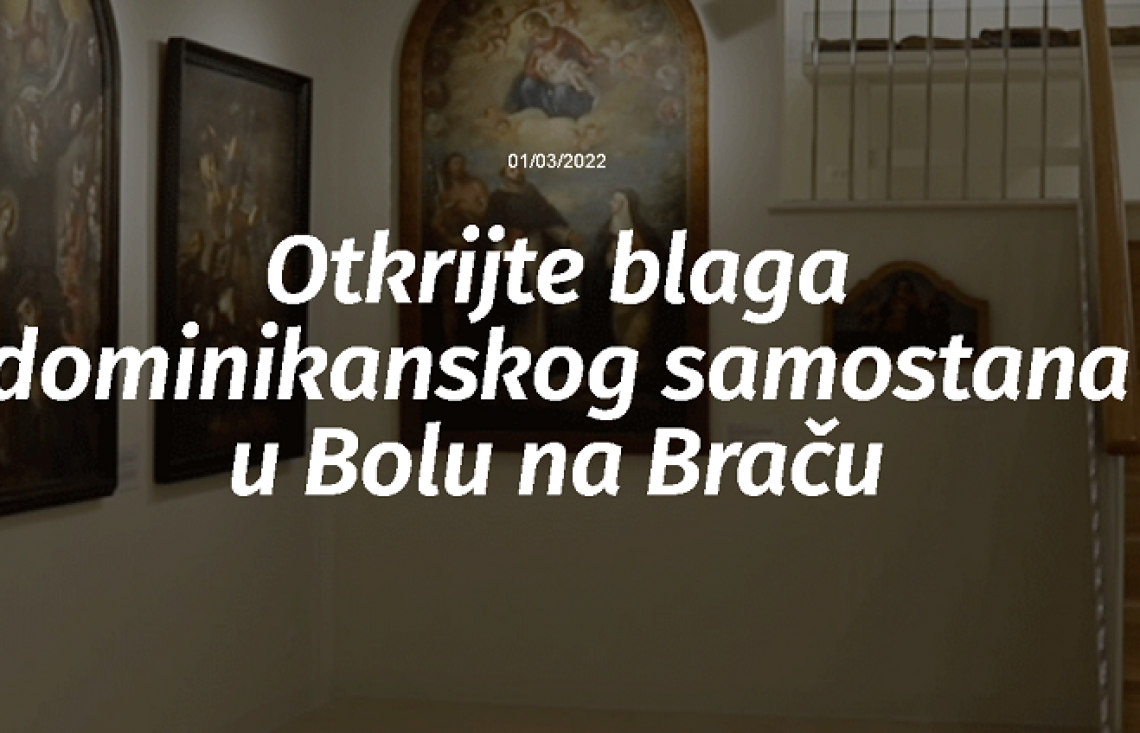 Every corner of Brač island will tell you a story from antiquity. Today we present to you a piece of the old sacral treasure they are hiding Bol in Dominican Monastery of St. Mary of Mercy.
Monastery in Bol was founded on the peninsula Glavice in the 15th century on the site of a late antique castle and the building of the bishop's palace mentioned in povaljska listina from 1184. years.
Many remains of early Christian architecture can be found on Glavica, which served as the basis for the architecture of the early Middle Ages. This can be clearly seen from the example of the church Sv. John and Theodore, which owes the noticeable features of its style to the fact that it is an ancient building that has undergone a medieval adaptation.
On the south side of the church of Sv. Marija Milosna, towards the spacious garden, rises a two-storey monastery building and an inner courtyard with a porch on one wing. Rich muzej of this Dominican monastery was founded on the 500th anniversary of the monastery, and reopened after an extensive renovation in 2021, to mark the 800th anniversary of the arrival of the Dominicans in Croatia.
The museum collection contains valuable works of art and archeological objects, silver liturgical vessels dating from the 16th to the 19th century, liturgical books, church vestments, numerous valuable manuscripts, documents and codices, and Glagolitic books. An interesting and valuable numismatic collection with very rare examples of ancient money. The exhibits cover the period from prehistory, through antiquity to the 18th century.
During the renovation of the museum, certain museum exhibits were restored - some of which were not yet available to the general public - such as the cloak from the first third of the 18th century and the powerful with the image of Christ the Savior from the 15th century. The new exhibition of the museum consists, for example, of votive gifts of the faithful of Bol, the so-called "Our Lady's Gold", or "Our Lady's Jewelry", some of which date from the time of the founding of the Bol monastery.
In this valuable collection, the most attention is drawn to the altar painting of Our Lady with the Child and Saints, which came out of the workshop of the famous painter Tintoretto, as well as paintings by the Croatian Baroque painter Tripa Kokolje on the bark ceiling.
The altars of the monastery church of Our Lady of Mercy are among the most beautiful on the island, especially the altar of Our Lady of the Rosary.